Floristry Testimonials
Sarah Williams; Flowers for Memorial Service
Yesterday went well. Thank you for the flowers. They were great.
Sarah.  (November 2017)
Irene Lathum; Flowers for Sister's Funeral
Such beautiful flowers for my sister … thank you Lynne, and they are still looking lovely after two weeks!
Irene (November 2017)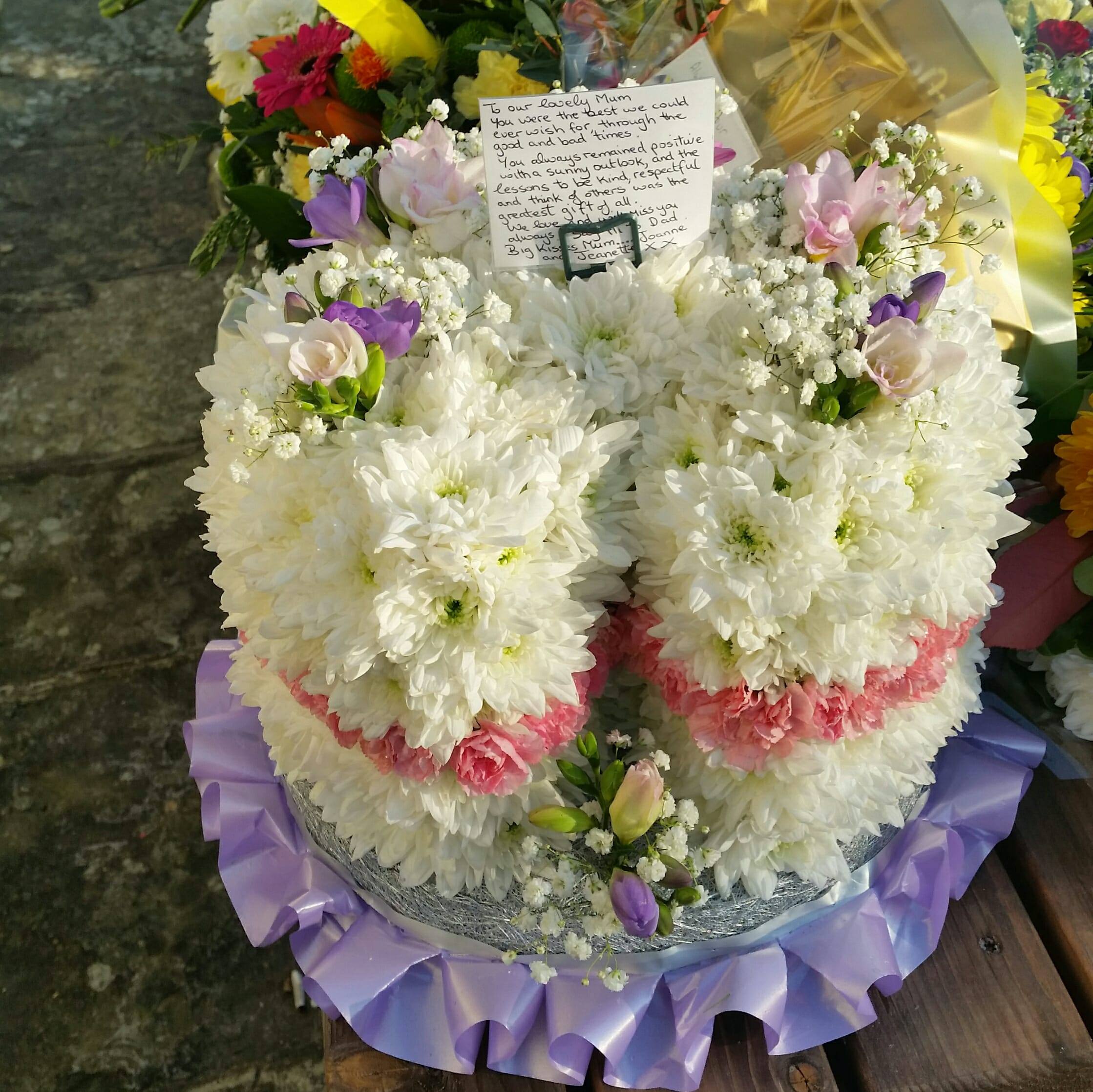 For Joanne's Mum, 3D Cake Tribute
Well what can I say …beautiful flowers for my mum ..thanks so much xx
Joanne Hamilton (November 2017)
Olivia and Kirill's Wedding Flowers
We hired Lynne to do our wedding and I cannot recommend her highly enough.  From the first meeting she was very engaging with our ideas and pitched in with enthusiasm.  The communication was excellent and she was very accommodating to various changes we  had.  All the flowers were prepared, arranged and delivered to the highest of standards.  Lynne really made our day perfect.  Thank you.
Kirill and Olivia (October 2017)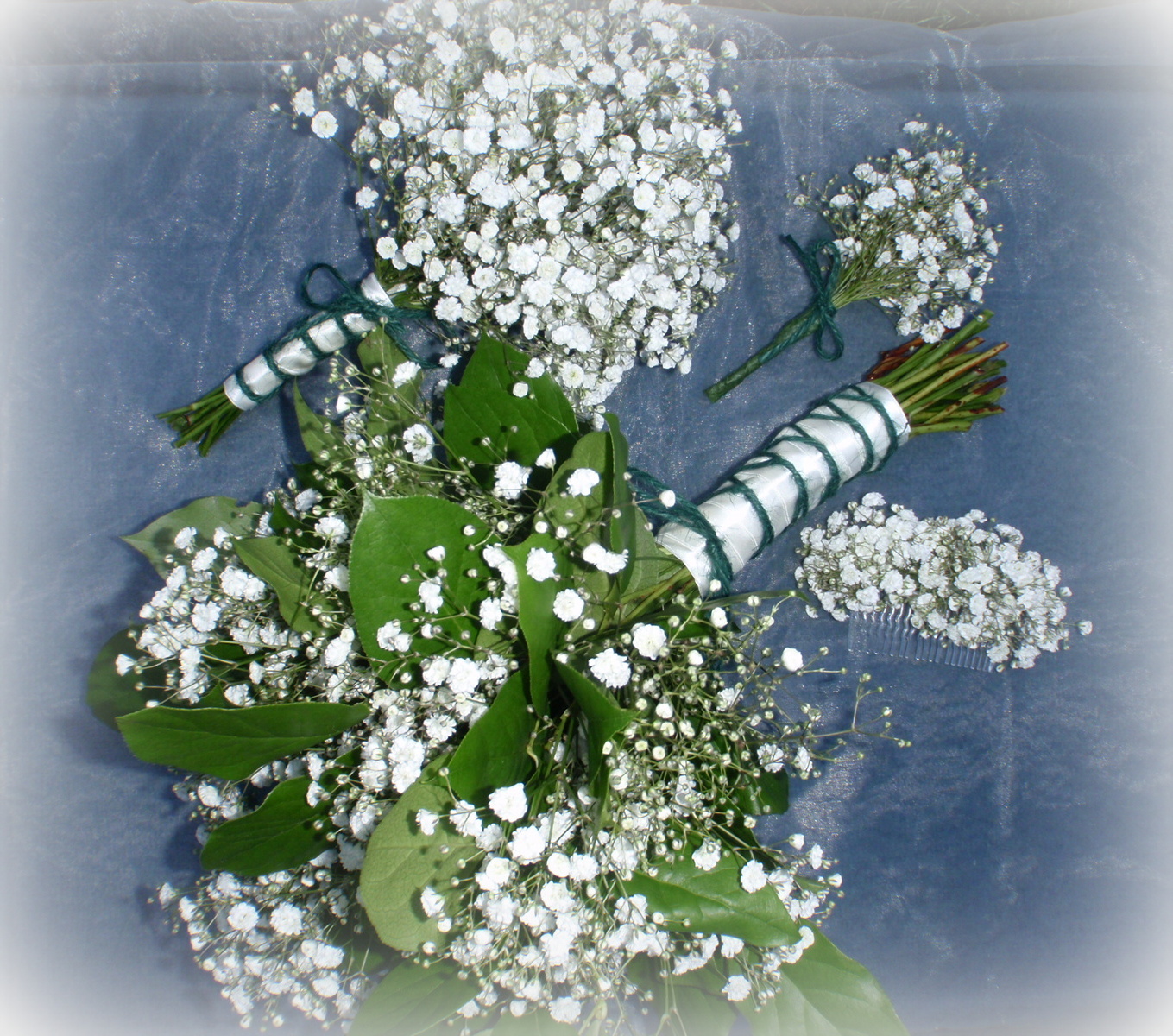 Charlotte and Jamie's Wedding Flowers
Our wedding flowers were amazing.  I couldn't be more pleased, everyone commented how beautiful and unique they were!  Lynne understood my vision exactly.  She's an absolute star with both her work and communication with her brides!  Thank you so much Lynne!
(September 2017)
Carol Powell; Wedding Bouquet
Just a belated thanks for our lovely flowers for our wedding and a photo!
Kind regards Carol (September 2017)
Sophie and Andrew Davies Wedding Flowers
Thank you for everything you did to produce our beautiful wedding flowers.  You made the whole process so relaxed and easy and really valued my ideas. – However vague!  The flowers you designed and made were exactly what I had pictured but were more stunning than I could have imagined.  We cannot thank you enough.  You will be very highly recommended.
Sophie and Andrew (August 2017)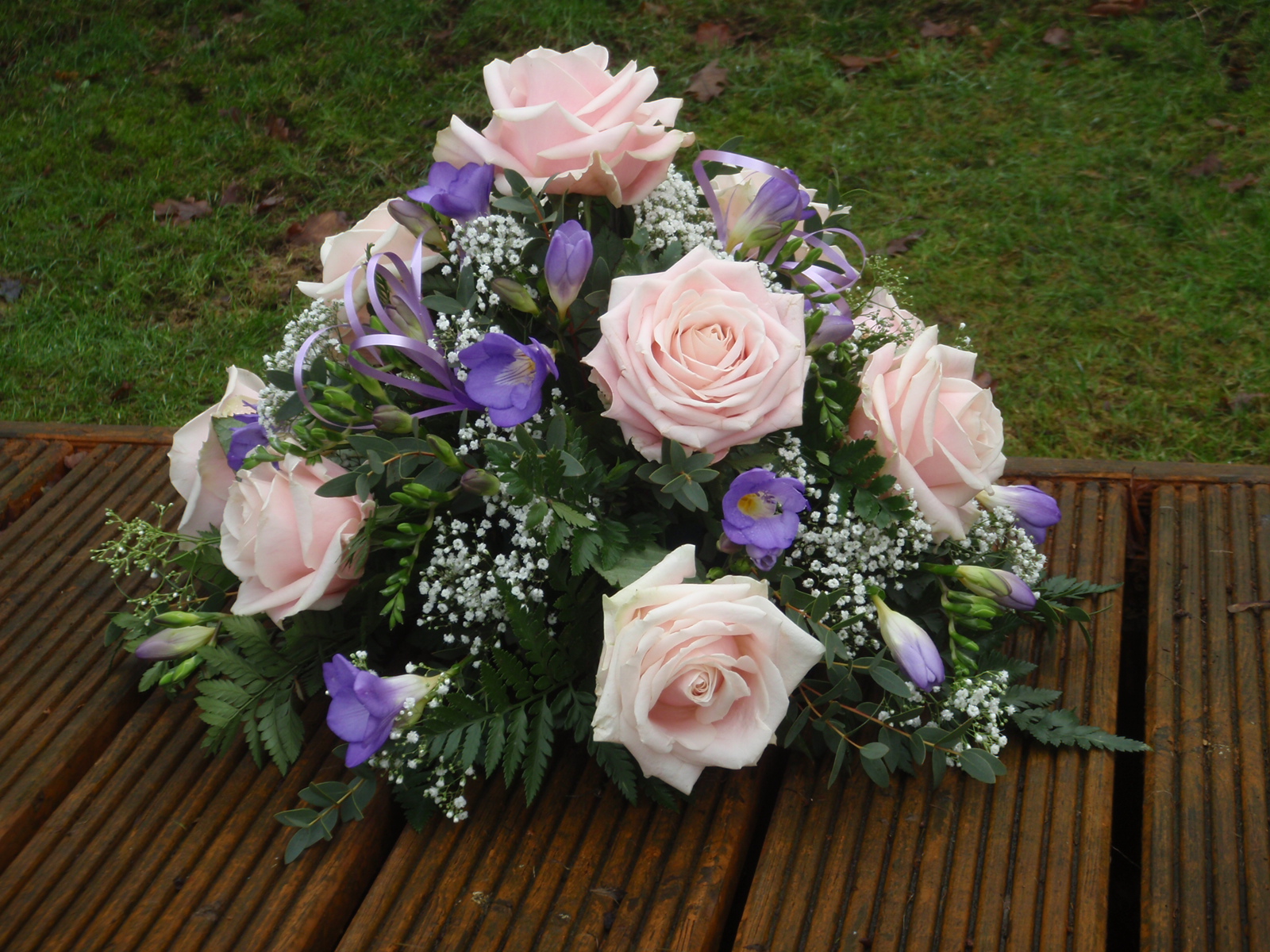 Geoff Golds; Funeral Flowers
All three arrangements were beautiful and despite not having actually met you and given you pictures to go on, following our conversation you captured the colours that I associate with my mother perfectly. My mum would have been thrilled at the turnout, the comments and most definitely the flowers and I am most appreciative of the displays you provided.
Kind Regards,
Geoff Golds. (January 2017)
Kat Rumble; Special Occasion Flowers
Thank you so much for the absolutely stunning flower arrangements, they looked incredible and were a real focal point of discussion at the party.  We have received lots of compliments from friends and family about them and the golf club even photographed them for their website! We were very impressed by your service and thought the arrangements were excellent value for money too.  I just can't thank you enough for helping to make our event so special.
Kind regards
Kat Rumble (September 2016)
Lucy and Sam's Wedding Flowers
Lynne I just wanted to thank you for the most beautiful flowers on Friday at Lucy's wedding.   They were quite simply stunning and just so lovely.  I know we gave you a bit of a vague brief, but they were spot on!
Thanks again
Carolyn (August 2016)
Jennifer and John's Wedding Flowers
I just wanted to say thank you for our wedding flowers on Saturday, they all look amazing, everybody was commenting on how lovely they looked.
Thanks
Jen and John (August 2016)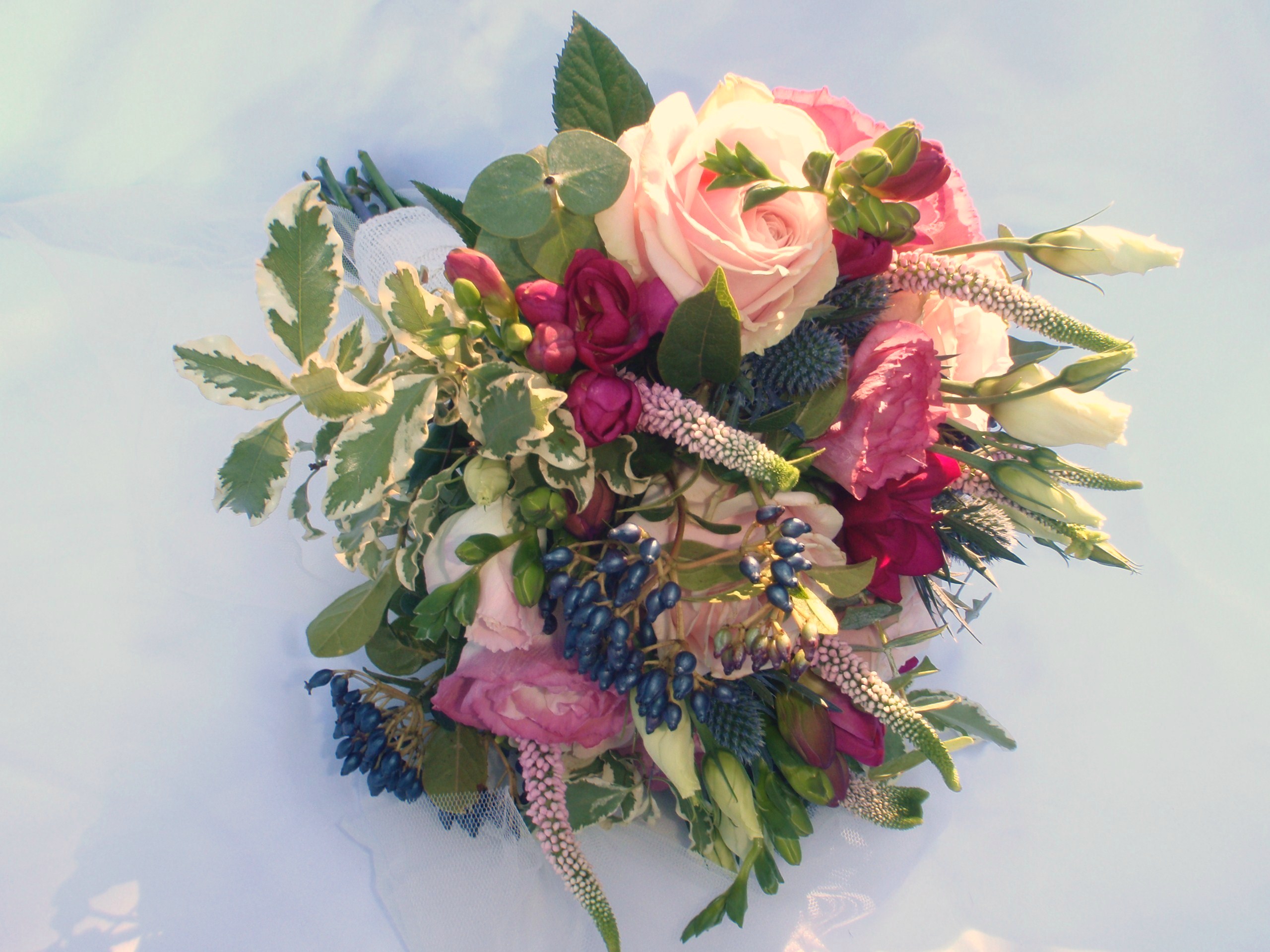 Vicky and Yanis Wedding Flowers
Thank you again for all your hard work making the flowers and bouquets so beautiful. They really were perfect and complimented the day perfectly.
Vicky (AKA the new Mrs O'Flaherty!)  (August 2016)
Red Rose Heart Tribute for Joanne Hamilton
Lynne last week provided the most beautiful flowers for my dads funeral, and 1 week later they are still going strong…unlike the interflora displays which have all died.
A lovely lady very willing, caring and very talented !
I would and will be recommending her and will use her again in the future.
kInd regards
Joanne   (June 2016)
Ellie and Daniel Hamilton's Wedding Flowers
You are Amazing!! (October 2015)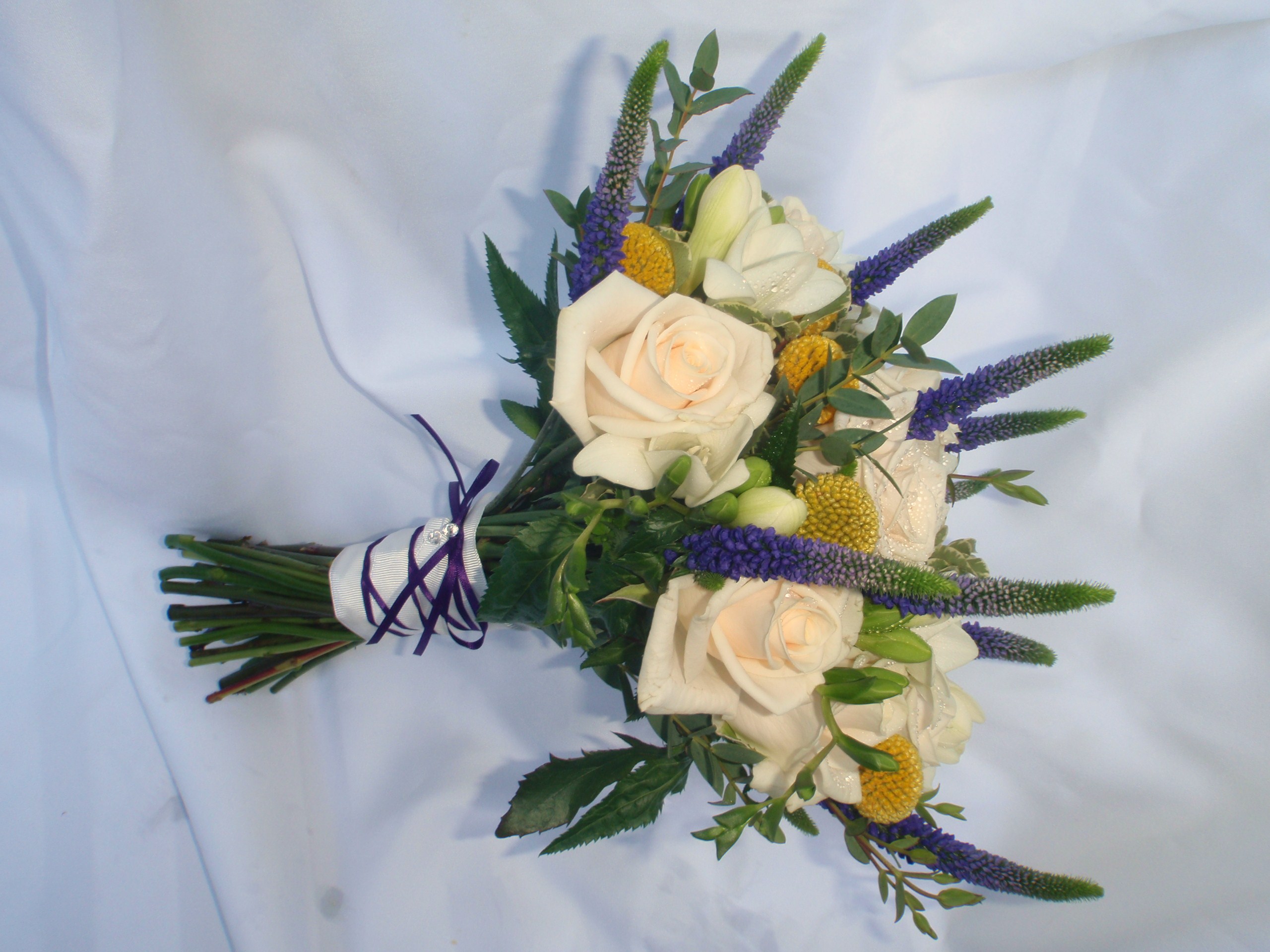 Leah and Robert Ide's Wedding Flowers
Dear Lynne
A massive thank you for all your hard work.  They were perfect.  Everything I could of dreamt of.  It's just a shame, I couldn't enjoy them for longer, but friends and family did for some time.  I would recommend your work to anyone.
Thanks again Leah and Rob  (September 2015)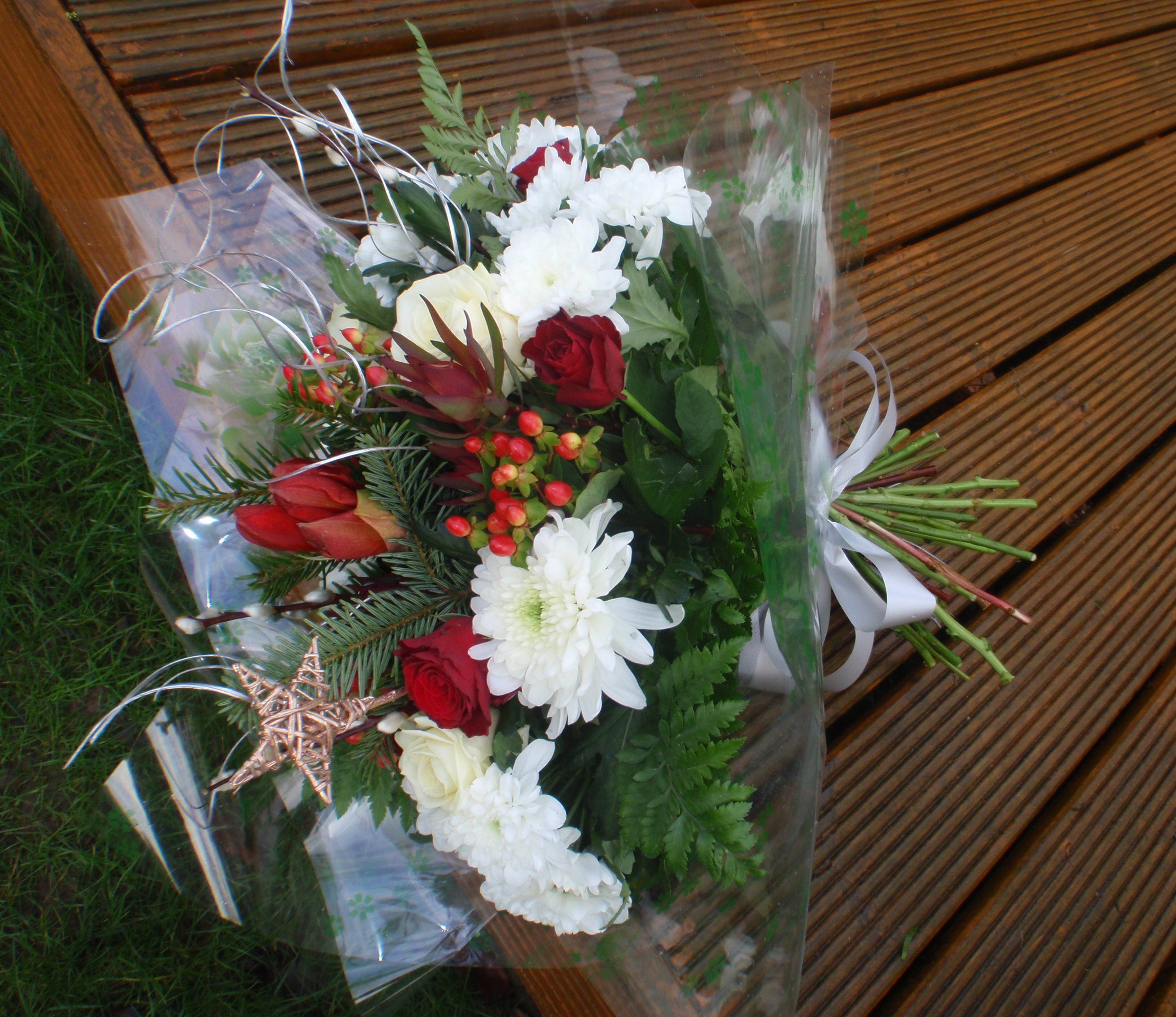 Christmassy Flowers for Caroline Groom
Very talented florist, would strongly recommend Floristry by Lynn, beautifully presented selection of Christmassy flowers and foliage which lasted 2 weeks and enjoyed and admired by all. FANTASTIC!  (December 2015)
Vanessa and James Willmott's Wedding Flowers
I just wanted to say a big thank you for all your hard work.  All the flowers were beautiful, I was admiring the long & low all through the wedding breakfast, it's now in my lounge on the window sill …. Looks stunning!  All the girls loved their quirky bouquet … I loved the long stems xxx
Kind regards
Vanessa   (August 2015)
Marianne and Andy Dunkling's Wedding Flowers
Hi Lynne,
Both myself and Andy would just like to thank you for the beautiful flowers at our wedding on 19th September. They were so much more than we had imagined and so many people commented on how lovely mine and the bridesmaid's bouquets were!
Thank you again!
Kind regards,
Mr & Mrs Dunkling  (September 2015)
Christine Smith's Hand Tie Bouquets
I asked for 2 bouquets to be made using autumnal flowers for my bosses who were celebrating 20 years in business together. Lynne came up with 2 beautiful, fresh bouquets which they were so happy with. Thank you Lynne.
(September 2015)
Sue Martin's Leo Cat Tribute
I cannot thank you enough for recreating Leo as a floral tribute.  It made me smile, it made me cry, it made me feel everything I had hoped it would.  My family thought it was amazing and my mum would have been absolutely delighted!  Thank you for helping me say goodbye to them both in the best possible way.  (August 2015)
Su
Alex Robinson's Funeral Flowers
Dear Lynne,
I just wanted to say a big thank you so very much for the most absolutely amazing fresh flowers for my Mum's funeral I've ever seen!! The roses in particular were such a beautiful pink colour and had the most gorgeous fragrance! They looked just like my Mum's garden.
We took the 3 displays to our venue Highley Manor Hotel after the church service and they looked just fabulous on display with all my Mum's memory photo boards on the table and they filled the room with their lovely smell.  Thank you for contributing to our special day for remembering my Mum and celebrating her life.
Kind Regards.
Best Wishes.
From Alex Robinson   (March 2015)
Hannah Braine's Wedding Flowers
Lynne did our wedding flowers for us and they were beautiful!  The pedestals in the church were stunning and I loved the little hearts she added to the bouquets as we married on Valentine's Day-such a nice little touch.  The church where we married admired the pedestal so much that they will now be recommending Lynne to future brides!
(February 2015)
Vivian and Derek Andrew-Smith's Funeral Flowers
Dear Lynne
I just wanted to thank you so much for the beautiful flowers that you arranged for my mother. Your flowers were greatly admired and we were all so grateful for your thought and kindness that you took in the creating the arrangement.  We will/have pleasure in recommending your floristry expertise to our friends.    (February 2015)
Becky Harding & Chris Sorge's Funeral Flowers
Lovely lady – really listened to what we wanted and had some wonderful suggestions. Ours are the white mum flowers with beautiful glittery butterflies.
Just wanted to say a very big thank you for the beautiful flower arrangements you did for my Dear Sister Sue Harding.  They were totally gorgeous!  (January 2015)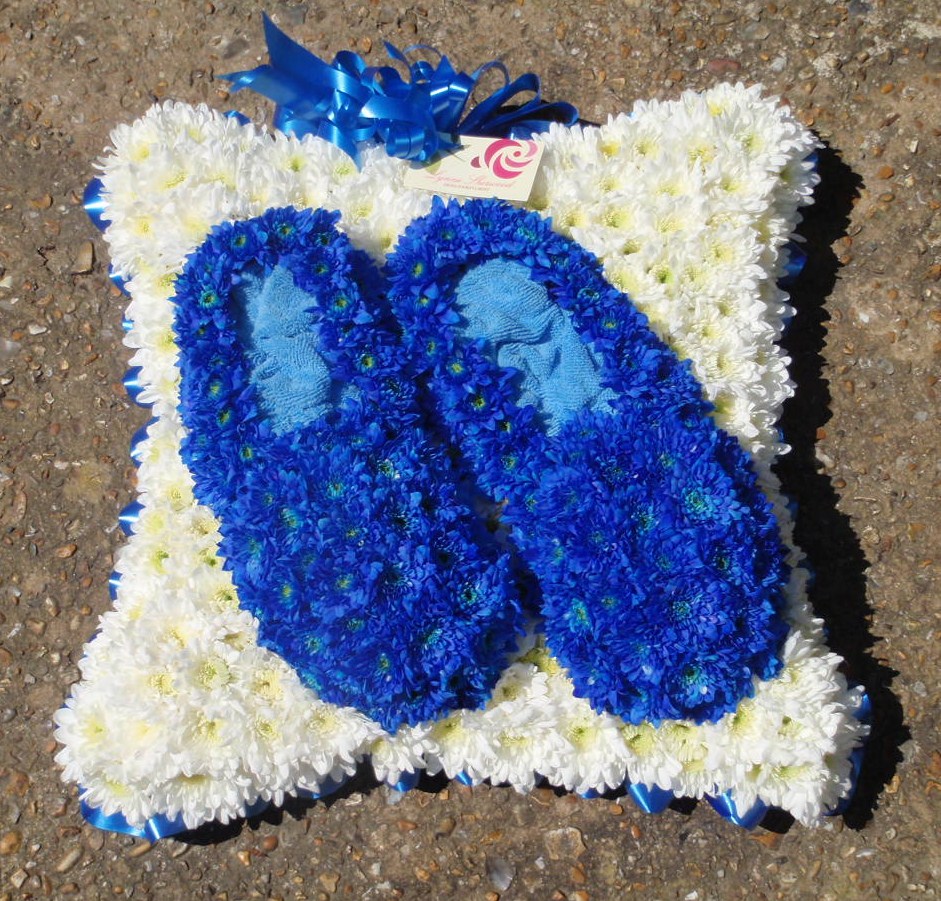 Becky Mc Neil's Slipper Tribute
I just want to say thank you for the amazing flowers! They were perfect!
Thank you  (July 2014)
Caroline Ray's Church Pedestal Arrangement
Thank you so much Lynne.
The flowers were beautiful and complemented the coffin spray so well. (November 2014)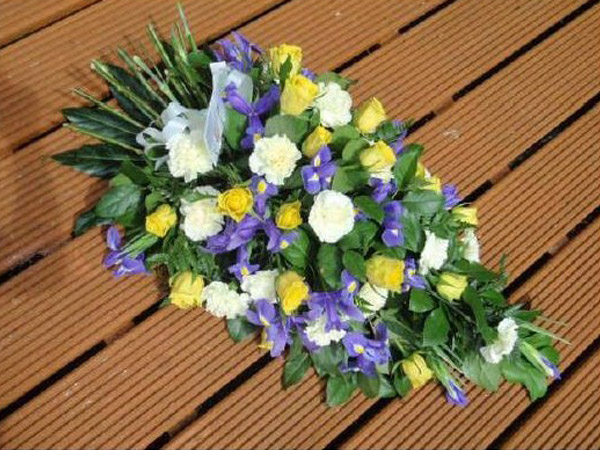 Ruth Penfold's Funeral Flowers
Lynne recently made a funeral spray for me. I was very pleased with it, and would definitely recommend her! Thanks Lynne. (June 2014)
P Hulbert's Teapot Tribute
I would like to say a big thank you from me and my family for the beautiful flowers used in the teapot arrangement we ordered for my mum's funeral on Wednesday 9th January 2013. This was a very sad day for us, but we know that she would have appreciated how lovely the flowers were.
(January 2013)
Margarete Johnson's 90th Birthday Table Arrangements
Thank you so much Lynne, for arranging stunning table arrangements for a family occasion. Your advice was very helpful, the flowers looked fresh and beautiful, and the shape of the arrangements fitted the round tables perfectly. The arrangements were enjoyed even after the occasion. A brilliant job done! We will recommend you in the future.
(October 2014)
Much Love,
Margarete
Maggie & Philip Dawson's 60th Birthday Flowers
Thank you so much for all the beautiful flowers you did for us on Saturday, they were just perfect.
The jars made the tables look so pretty for the meal and the big arrangements were gorgeous. I gave one of the big arrangements to my sister who has her birthday today and the other one sat in front of our fire which looked really good yesterday when the family all came round. (September 2013)
Thank you again
Maggie
Cripp's Thank You Arrangement
They are beautiful, Thank you (April 2014)
Charlotte Baker's Wedding Flowers
I met Lynne at a wedding fare earlier this year at the Birch hotel and was drawn by her unique ideas and personalised approach to floristry. She listened intensely my wedding theme ideas and came up with some inspiring suggestions. We organised a meeting to discuss arrangements and she was able to meet me at home after work. Lynne was truly charming in her entire approach and I felt like I could really trust her advice. When I received my quote I was very pleasantly surprised by the cost as it was significantly cheaper than others. When the flowers arrived it was lucky my makeup hadn't been put on, as i brought tears to my eyes. They were perfect, just how I wanted them, beautifully selected and arranged so carefully. There quality was outstanding, despite the reasonable price. I have no hesitation in recommending Lynne for any event – Wedding / Christening or simply for a lovely arrangement for someone special. (June 2014)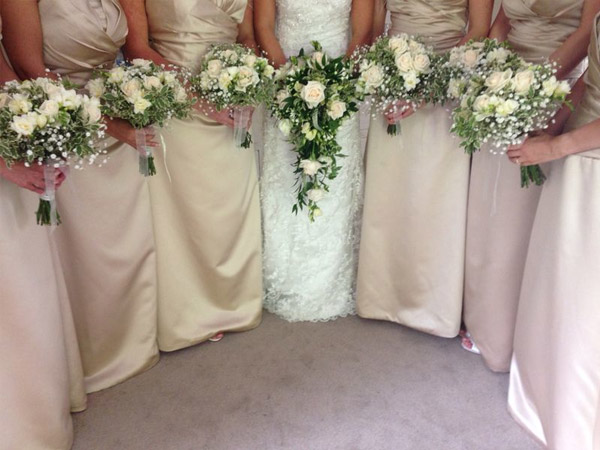 Amanda & Will Haworth's Wedding Flowers
I want to say a massive thank you to Lynne for our amazing flowers for our wedding. Everyone was commenting on how amazing the centrepieces were and the bouquets, they stayed fresh all day and even through to the next day. The arrangements were exactly what I had pictured. I can't recommend her enough!
(June 2014)
Sarah (Burnell) & Ant's Wedding Flowers
Thank you so much the flowers for our wedding were absolutely perfect, the freshest flowers we have ever seen! The bouquet for my grandparent's grave were commented and touched the heart of all the related family members.
Such beautiful arrangements and the bridal bouquet were amazing. (September 2012)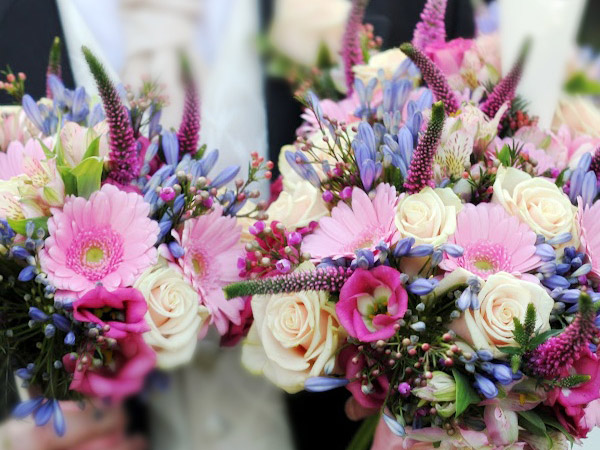 Jaci (Pickering) & Sam's Wedding Flowers
I was initially unsure what type of flowers to choose, but with Lynne's guidance, together we chose the flowers to match our theme and our venue. My husband and I were both thoroughly impressed. My bridal bouquets were wonderful, I loved them! All of our guests commented on how lovely they were. I have pressed and framed them now, so that I can always enjoy them. Thank you for helping to make our day so special! (March 2013)